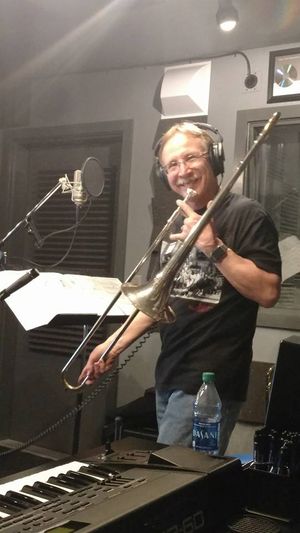 Bill Emery has been playing music since being a kid in the Minneapolis Minnesota area Before he was out of high school he was playing professionally with a local dixieland band and a polka band..
True to his Minnesota roots, Bill started on accordion and then played tuba through his hith school years, adding trombone after being inspired at a concert by Stan Kenton. He later attended the Stan Kenton Jazz Workshop in Springfield, Missouri and had his first composition played by the Kenton Orchestra.
Bill travelled with the John Stafford Big Band Sound and attended the University of Texas at Dallas and Cedar Valley College (Lancaster, TX) attaining degrees in Music Performance, Commercial Music, and Music Education. He has led his own groups since 1978 playing big band music and small group jazz. 
After arriving in Colorado Springs he formed the New Century Big Band as a community-focused group. He led this band until taking a "semi-retirement" to return to school to get a degree in nursing and he has worked as a RN in the stroke unit at a local hospital. 
Since returning from  "semi-retirement" he has been doing songwriting and instrumental compositions, leading his own group, the Bill Emery Band (with 4-16 players), playing in the Bare Bones Trombone Choir, and is a founding member of PB&J (with Jim Robertson and Pam Steinberg). He released a jazz quintet CD in 2019 titled "It Is What It Is: Songs for my Father and other Jazz" and is working on releasing a number of his own songs and compositions in the upcoming months.,